Technology
Guide for Unlocking EML Files in Outlook 2019, 2016, 2021, and 2010
Summary: This comprehensive guide elucidates the various methods to open EML files in Outlook 2019, 2016, 2013, and even the latest 2021 version. In addition to manual techniques, we introduce Aryson EML File Converter, a professional solution for bulk EML to PST conversion.
In today's digital age, MS Outlook reigns supreme when it comes to email communication. However, users of Windows Live Mail often find themselves in a dilemma as they seek to transition to Outlook. The obstacle lies in the inability to directly open EML files in Outlook 2019, 2016, 2021, and 2010. But fret not, for this article presents two manual methods to help you seamlessly view and open WLM emails in Outlook.
Why You Need to Open EML Files in MS Outlook?
Numerous reasons compel users to read, view, or open EML files in Microsoft Outlook:
Migration Benefits: Many users manage their data using email clients like Outlook Express, Windows Live Mail, and Thunderbird. The need often arises to migrate email from these clients to MS Outlook for its enhanced features.
Enhanced Security: MS Outlook is renowned for its security features, making it a preferred choice for users who prioritize data safety.
Organizational Capabilities: Outlook empowers users to organize mailbox data items according to their preferences, offering a more structured approach.
Security Options: It offers multiple security options, including password protection on PST files, ensuring data confidentiality.
Cross-Device Compatibility: MS Outlook is accessible on mobile devices, desktops, laptops, and other platforms, ensuring you stay connected wherever you go.
These advantages make Outlook a top pick over other EML-supported email clients. Now, let's dive into the methods to open Windows Live Mail files in Outlook.
Four Different Methods to Open EML Files in Outlook:
All methods outlined here are compatible with various Outlook versions, including 2021, 2019, 2016, 2013, 2010, 2007, and others.
Technique 1: Using Windows Live Mail (WLM) and MS Outlook
Open both Outlook and Windows Live Mail.
In Windows Live Mail, navigate to the File Tab and select "Export Email."
Click on "Email Messages."
Choose "Microsoft Exchange" and click "Next."
In the Windows Live Mail Exchange Box, select "Microsoft Exchange" and click "Next."
Confirm by clicking "OK."
Select the desired folder to export all or select specific emails to MS Outlook.
After completion, you'll receive a confirmation message, and your EML files are now accessible in Outlook.
Method 2: Making Outlook Default
Locate the EML file.
Right-click and select "Open with," then choose Outlook.
Procedure 3: Manual Drag-and-Drop
Open Outlook and the folder where you wish to add the EML data.
Find the EML file and drag it into the Outlook application to open it.
While manual methods are effective, they have drawbacks:
Risk of Data Loss: Manual techniques can lead to data loss if not executed carefully.
Time-Consuming: Manual methods are time-consuming, particularly when dealing with numerous emails.
Technical Expertise Required: They demand technical knowledge of both Windows Live Mail and MS Outlook.
Method 4: Using a Professional EML to PST Converter to Open EML Files in Outlook
For a hassle-free experience, consider FixVare EML to PST Converter Software, which converts EML files into PST format, making them easily importable EML files into Outlook. This tool saves time, eliminates data loss risks, and requires no technical expertise.
How to Open EML Files in Outlook Using FixVare EML to PST Converter:
Install the EML to PST Converter on your computer and then run it.
Click "Select" to add EML files and open them.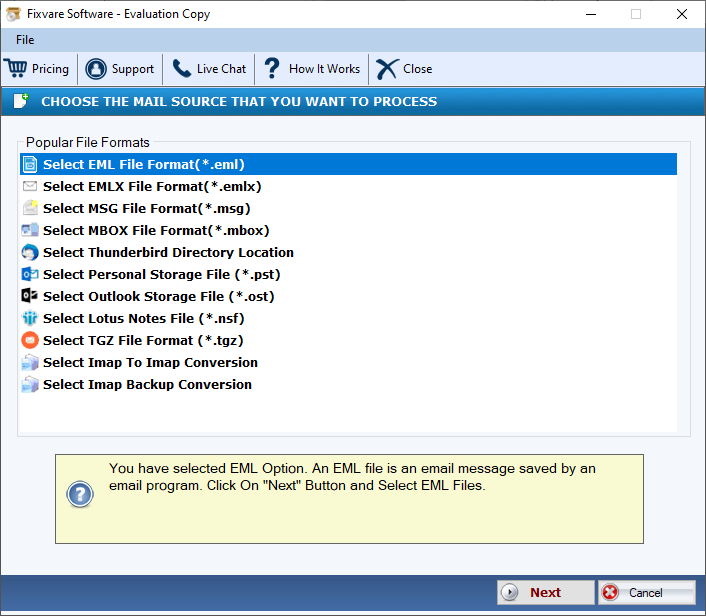 Choose the folders you wish to move and click "Next."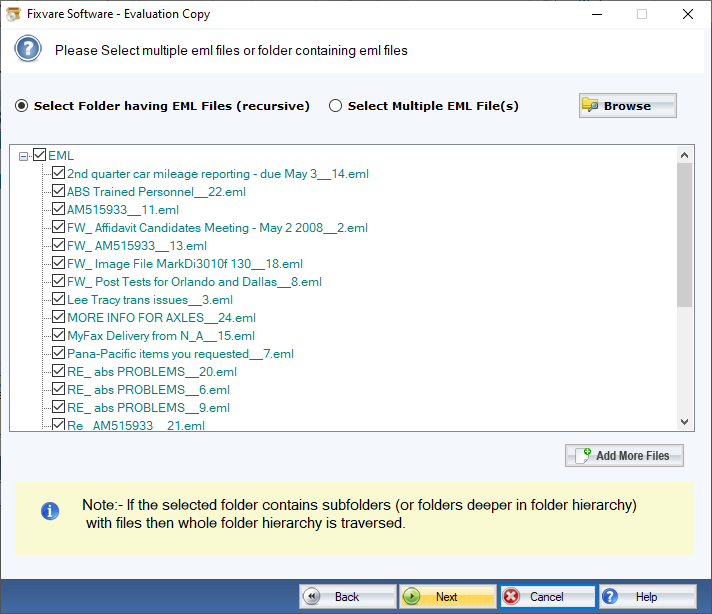 Select "Outlook PST" as the saving format.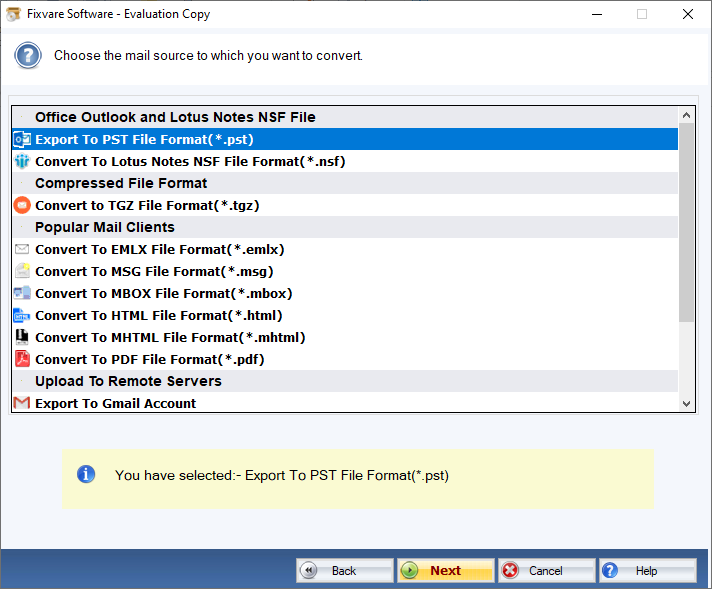 Configure the software features as per your needs.
After choosing the target folder's location, select "Convert."
All your EML files will be converted into PST format.
Finally, import the PST files into Outlook to complete the process.
In Summary,
There are now several ways to access EML files in Outlook 2019, 2016, and 2010. Your decision will rely on your level of technical expertise and the time you have. The expert tool is your best choice if you're searching for a rapid, risk-free fix. Your choice must be made, and this essay is meant to assist you in doing so.
Question: Outlook can open EML files, according to a frequently asked question.
A. Yes, Outlook can open WLM files in a variety of ways, including with the help of third-party programs like FixVare EML to PST Converter for a simple process.
Question: In Outlook for Mac, how can I open EML files?
A. Opening EML files in Outlook for Mac follows a similar process to Outlook for Windows. You must use the same manual procedures as those described above, making sure that they are carried out correctly.