Technology
Common Issues & Errors that Users Encounter During MBOX Conversion
Introduction: Many email applications, including Mozilla Thunderbird, Apple Mail, Eudora, and others, utilize the MBOX file format to store email messages. But users frequently discover that they need to convert MBOX files to other formats because of various needs, such changing to a new email client or archiving emails. Although MBOX conversion might be helpful, the procedure is not always straightforward. Users frequently experience typical problems and mistakes that can make the converting process difficult. We'll examine these typical issues in this post and offer suggestions for how to solve them.
Issues & Errors that Users Encounter
Lack of an Best Converter: One of the first difficulties users run into is locating an efficient and effective MBOX to PST Converter. It might be confusing to choose the best MBOX to Outlook Exporter Tool. With so many options available. Users must confirm that the converter they choose supports both the source and target file types and is compatible with their operating system.
Data Loss and Corruption: Data loss and corruption might happen during MBOX to Outlook PST conversion, resulting in lost emails, missing attachments, or corrupted files. When using free or manual converting programs, this frequently occurs. Users should use software tool that is reputable and ensures data integrity to reduce this danger.
Compatibility Problems: Users transferring transformed files across email clients can have compatibility problems. Switching between email clients that use various file formats seems to cause this problem more. Before converting their MBOX files, users should check for supportiable to resolve issue.
Big MBOX Emails File: Converting Large MBOX files can be time- and resource-consuming and result in system or program problems. Long-size MBOX files should be divide into smaller, more manageable pieces by users with big email archives to facilitate a seamless conversion procedure.
Missing Attachments: Some users say that problems with their converted emails' missing attachments. This could happen as a result of the conversion tool's limitations or incorrect conversion settings. Users should verify their settings and adjust them to make sure attachment are sent properly to avoid problem.
Read this Blog: Evalate Top-Free Method to Convert MBOX Emails to Outlook PST Format
Incomplete Conversion: This problem also occurs often. Users can discover that just some of their MBOX files have been convert, leaving important emails behind. Use a best WholeClear MBOX to Outlook PST Converter Tool with solid reputation for thoroughness and that is well-maintain if you want to prevent this issue.
Changes to the folder hierarchy might occasionally result after MBOX conversion, which can be confusing for users. To ensure order and accessibility, it's critical to use a converter that keeps the original folder structure.
Encoding problems: MBOX files include many items that are encode with different characters. When these files are edited, encoding issues can occur, resulting in confusing or unintelligible information. To ensure proper display, users should use conversion tools that can handle different characters.
Absence of technical help: Users can experience issues or mistakes when processing data and need technical support. Some converting systems, however, don't offer enough customer assistance. To avoid this, users could use WholeClear MBOX to PST Converter, which has good customer care and an extensive user manual.
Issues with safety and security: People worried about the security of changing their email data from the s can find it challenging to trust some email recipients because the entire conversion procedure depends on it. Utilizing dependable converting software with security features might solve these problems.
Limit file size: The file sizes that some conversion applications can handle are limit. Users who work with huge MBOX files should review the program's file size restrictions and pick an appropriate solution.
How Can we Solve this Error of Ours?
Use reputable and specialized MBOX to PST conversion software to avoid frequent problems and mistakes while converting MBOX files. With the appropriate tools, you can handle these issues as follows:
Choose a trustworthy and well-known WholeClear MBOX to PST Converter Software. Multiple MBOX emails can be easily export to Outlook PST format with this program. When the convergence process starts, there are no risks of data loss. You can convert MBOX emails to Outlook PST format without using any additional software. Additionally, the software offers all users a free sample edition so they can check out the updated features and outstanding capabilities of this application without spending a dime.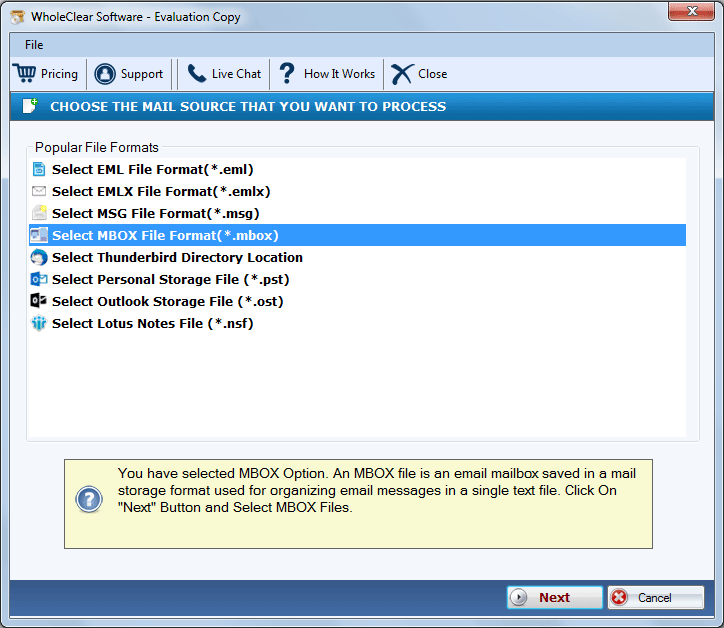 In Nutshell,
The conversion of MBOX files is a frequent process with several possible problems. Data loss, compatibility concerns, and improper conversions are just a few of the challenges that users could run across. Users should use in-dependable conversion programs, keep copies of their data in a backup location, pay attention to settings, and keep file size restrictions in mind in order to effectively navigate these difficulties. Users can assure a speedier and error-free MBOX conversion procedure, preserve their priceless email data, and ease the move to various email applications or formats by solving these typical concerns.